Key Features
Traveling Sheave zero-fleet winch for compact design
Heavy lifting winch with 907.18 kg (2000 lb) capacity in dual line configuration

0.61 m/s (2.0 ft/s)

max speed
Integrated rigging connections for individual suspension
Top frame matches standard 63.5 mm (2.5 in) truss profile for easy connections
Description
The Z Winch offers a compact solution for lifting heavy loads. The winch offers dual outputs of 7.938 mm (5/16 in or .3125 in) rope with a tracking sheave design to accommodate zero-fleet coming out of the winch. The winch has rigging connection points to attach to conventional rigging or custom winch mounts. The winch frame is also sized to adapt to standard 520.7 mm (20.5 in) box truss.
Dimensions
Top View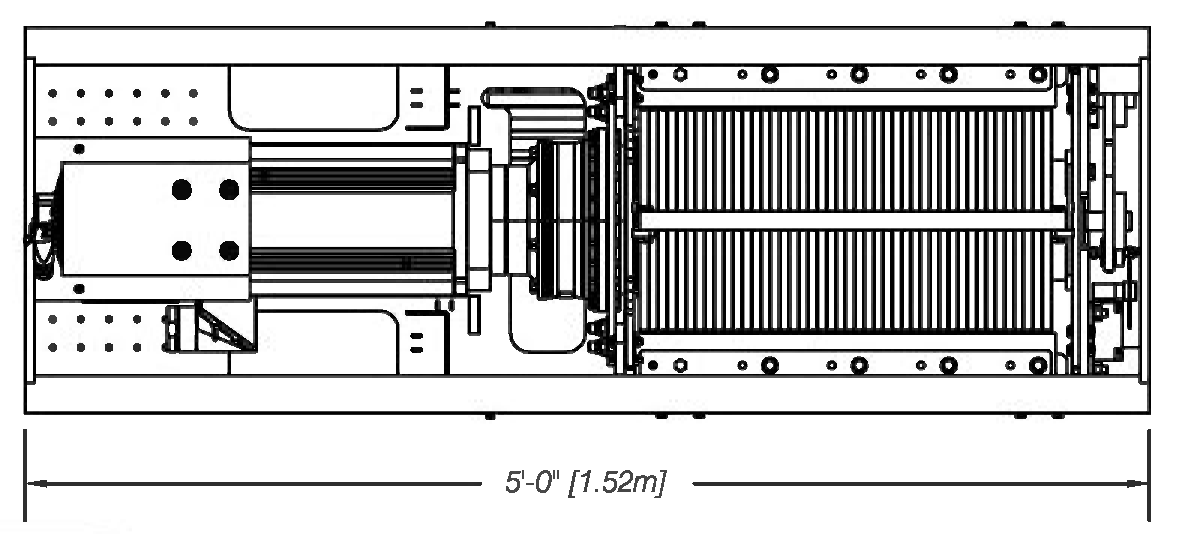 | | |
| --- | --- |
| Front View | Side View |
| | |
Specifications
Electrical
Rated Voltage
200-230 VAC
Frequency
50-60 Hz
Connections
Power
Ceeform 60A
Control
Navigator
Feedback/Encoder
EtherCON, XLR 8+2
Motor Brake
LKH (6AWG)
Mechanical
Maximum Line Load
907.18 kg (2000 lbs)
Maximum Speed
0.61 m/s (2.0 ft/s)
Travel
30.48 m (100 ft)
Environmental
Operating Temp
10° C to 35° C (50° F to 95° F), 50% RH
Construction
Dimensions (L x W x H)
1.25 m x 0.52 x by 0.76 m (4.10 ft x 1.71 ft x 2.49 ft)
Weight (winch only)
390.09 kg (860 lbs)
Wire Rope
3.125 mm (5/16 in or 0.123 in)
Still Have Questions?
If you have any questions at all--or if you're ready to rent--please contact us. We look forward to hearing from you soon!
Disclaimer: These specifications are general guidelines only and may not be appropriate for your particular project. All product specifications and Data are subject to change without notice. Data, performance features, and images may vary from the final project quote. Issue date: 2017.05.02. Copyright 2020 TAIT Towers Manufacturing, LLC. All rights reserved.
I-CODE: 26700075