Welcome to TAIT Support! Here you can find knowledge base articles, rental equipment, training information, release notes, user manuals, and a community forum. You can also use this site to create a support ticket.
IMPORTANT: Not all support content is available to those who don't sign in. To get the most out of this site, create a free support account by clicking the Sign In link at the upper right of this page. If you don't yet have an account, click the Sign Up link in the window that opens and then enter your name and email address. Sign in to unlock demos, user manuals, release notes, and more!
Signing In
As mentioned earlier, to take full advantage of the Support content, you need to sign in. Signing in is also required to check the status of a ticket (more on that later). To sign in, click the Sign In link at the top right of the home page. This link opens the sign in window shown below.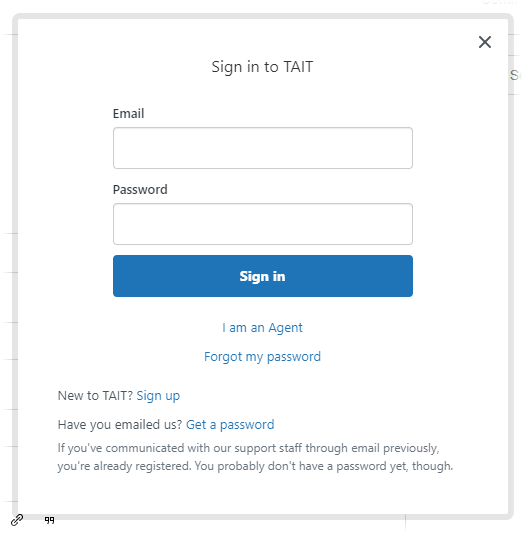 To log into your existing account, enter your credentials and press the Sign In button. If you're unsure if you have an account, click the Get a password link. The TAIT Support Portal automatically creates new accounts and user IDs for every email address we receive, so if you've emailed asktait@taittowers.com or were CC'd on an email to that email address anytime after August 18, 2018, you likely have an existing Support account. To create a new account, simply click the Sign Up link and fill out the form shown below.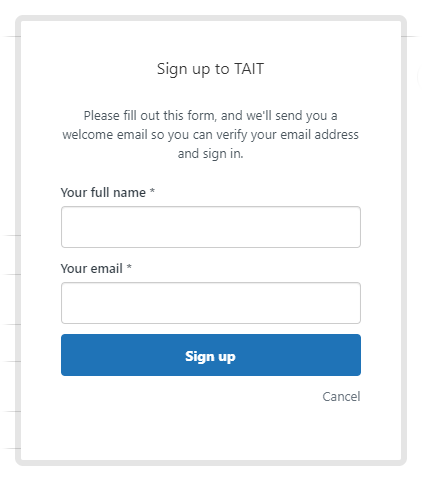 Once you are logged into the site, you will see additional categories--the big red buttons--appear on the home page and far more content will be available to you within any of those categories.