Key Features
Custom-built set piece that suspends a lighting assembly or scenic element above the stage.
Unique scissor configuration with integrated cable management system provides ascetic appeal while obscuring cables and mechanics.
Actuated using our 500 kg Nav Hoist for smooth, precise moves; fully compatible with the Navigator Automation Platform.
Secures to a 12 in to 24 in wide truss using adjustable cheeseborough clamps for quick and secure integration.
Description
The TAIT Pantograph is a unique and versatile scissor motion device that supports 158.76 kg (350 lbs) of payload for theatrical and stage lighting. The Pantograph incorporates a cable management system that prevents tangling and cable crimping, and provides a clean look to the assembly, so powering and controlling lights is as easy as making a few connections. One Pantograph supports a varied array of lights from a single, high-powered light to an assembly of multiple lights. The Pantograph is stored in a custom dolly that ensures easy load-in, load-out, and set-up, saving time and resources.
Dimensions
| | |
| --- | --- |
| ISO View | Top View |
| | |
Side View, Collapsed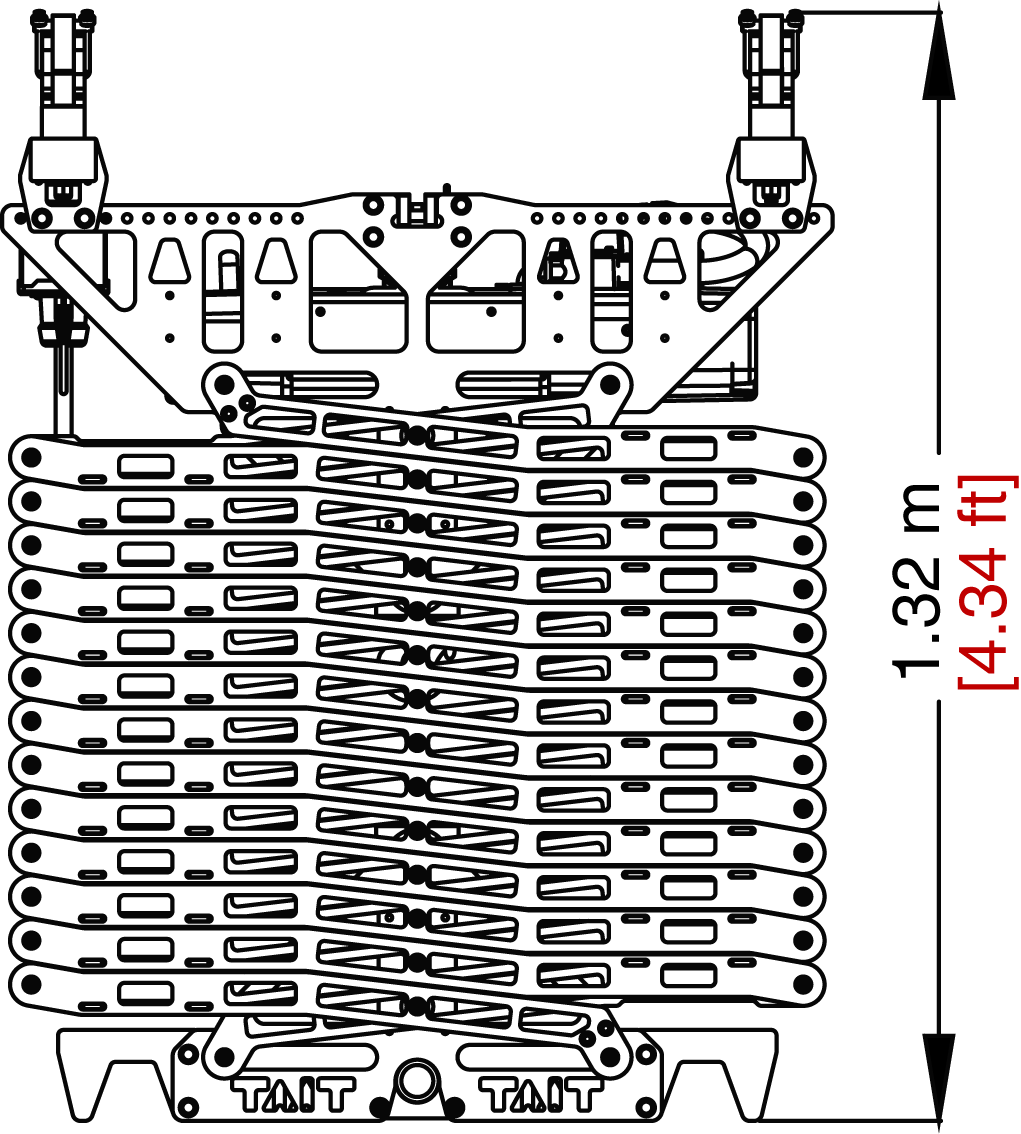 Configurations
The Pantograph expanded and collapsed with suspended light assembly, showing travel distance
of 10.38 m (34.05 ft):
The Pantograph is a versatile suspension device, as illustrated below with different light assemblies:
Specifications
Electrical
Input Voltage
100-240VAC, 50/60 Hz
Output Voltage
100-240VAC, 50/60 Hz
Input Current
20A, maximum
Output Current
15A, maximum combined
Connections
Power, Input
One (1), powerCON (1 Phase + 1 Neutral + 1 PE)
Power, Output
Three (3), powerCON (1 Phase + 1 Neutral + 1 PE)
Control, Input
5-pin XLR (male)
Control, Output
5-pin XLR (female)
Mechanical
Lift Speed
2.40 to 25.0 m/min (8 to 84 ft/min)
Travel
10.38 m (34.05 ft)
Operating Capacity
158.76 kg (350 lbs), in addition to Pantograph weight
Environmental
Operating Temp
40 C (104 F), maximum
Enclosure Rating
Type 1
Construction
Dimensions (L x W x H)
Collapsed: 0.92 m x 0.76 m x 1.32 m (3.03 ft x 2.50 ft x 4.34 ft)
Expanded: 0.92 m to 0.76 m x 11.56 m (3.03 ft x 2.50 ft x 37.93 ft)
Platform: 2.18 m x 1.73 m (7.15 ft x 5.67 ft)
Weight
234.72 kg (517.47 lbs), Pantograph only (no load attached)
Material
Majority of Pantograph constructed of 3/8 in, 1/4 in, and 1/2 in aluminum plate
Accessories
Cheeseborough Clamps
Four (4) heavy-duty trigger clamps, adjustable to fit a 12 to 24 in truss
Packaging and Shipping
Number of units per dolly
One (1)
Dimensions (L x W x H)
Pantograph and Dolly:
1.14 m x 0.76 m x 2.34 m (3.74 ft x 2.49 ft x 7.68 ft)
Weight
453.59 kg (1000 lbs)
| | | |
| --- | --- | --- |
| ISO View | Front View | Side View |
| | | |
| | | |
Still Have Questions?
If you have any questions at all--or if you're ready to rent--please contact us. We look forward to hearing from you soon!
Disclaimer: These specifications are general guidelines only and may not be appropriate for your particular project. All product specifications and Data are subject to change without notice. Data, performance features, and images may vary from the final project quote. Issue date: 2016.09.20. Copyright 2021 TAIT Towers Manufacturing, LLC. All rights reserved.
ICODE: 29009020