Key Features
Attaches to truss
Pull line used to raise soft good
Max speed dependent on soft good thickness
Max speed of 27.16 m/s (89.1 ft/s) with zero resistance
Load capacity dependent on soft good material
Available in two sizes: 0.61 m and 0.91 m (24 in and 36 in)
Description
The TAIT Sniffer Overhung attaches to the truss for the removal of soft goods. It uses a pull line attached to the soft good to raise the soft good up from the stage. This Sniffer is available in two sizes: 0.61 m and 0.91 m (24 in and 36 in). The maximum speed is dependent on the thickness of the soft good. It can reach a maximum speed of 27.16 m/s (89.1 ft/s) with zero resistance. The type of soft good material used will determine the load capacity.
Dimensions
| | |
| --- | --- |
| Top View | Side View |
| | |
Front View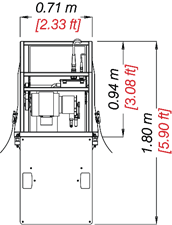 Specifications
Connections
Power
Marathon Black Max, 3HP, 1800 RPM, 230/ 460 V,
Pulley 32 teeth, 1:1 ratio
Control
Local, Pickle, Navigator
Mechanical
Maximum Speed
27.16 m/s (89.11 ft/s) with zero resistance
Construction
Dimensions (L x W x H)
1.14 m x 2.6 m x 1.8 m (3.74 ft x 8.53 ft x 5.90 ft)
Weight
49.90 kg (110 lbs) without soft good
Soft Good Size
15.24 m x 10.16 m (50 ft x 33.33 ft)
Inner Drum
12-inch diameter
Requirements
L21- 30, T-COMM
Still Have Questions?
If you have any questions at all--or if you're ready to rent--please contact us. We look forward to hearing from you soon!
Disclaimer: These specifications are general guidelines only and may not be appropriate for your particular project. All product specifications and Data are subject to change without notice. Data, performance features, and images may vary from the final project quote. Issue date: 2017.08.21. Copyright 2021 TAIT Towers Manufacturing, LLC. All rights reserved.
ICODE: 26705100, 26705200-K