Key Features
Fully self-contained, high-speed winch intended for dead haul lifting and motion applications
Compact, less than 40 kg (88.19 lbs) and can lift 22.30 kg (49.16 lbs)
Compatible with the TAIT ESA-M Emergency Stop Appliance or similar E-Stop sources
Designed to fit into standard truss segments
Description
The TAIT Smart Winch meets the needs of productions requiring a compact winch for lifting props and stage effects at a maximum speed of 3.04 m/s (9.97 ft/s). The winch has the power to lift 22.30 kg (49.16 lbs) to a maximum height of 15.24 m (50 ft), and to accelerate the payload at a maximum rate of 3.04 m/s² (9.97 ft/s²). The winch is capable of supporting two ropes that can connect to a spreader or to multiple points on a prop for stable lifting.
Specifications
Electrical
Motor Speed
3000 RPM
Rated Voltage
100-240 VAC, 50/60 Hz
Power
3 HP
Current
10A, maximum (20A, maximum pass through)
Connections
Power, Input and Output
One (1) each Neutrik powerCON Locking 3 Pole Power Connector

Network, Input and Output
One (1) each E-CAT RJ45Output: One (1) E-CAT RJ45
E-Stop
NAV:NET
Mechanical
Safe Working Load
22.3 kg (49.16 lbs)
Lift Speed
Variable, 3.04 m/s (9.97 ft/s) maximum
Acceleration
3.04 m/s² (9.97 ft/s²)
Stroke
15.24 m (50 ft)
Gearbox Ratio
5:1
Construction
Dimensions (L x W x H)
760 mm x 290 mm x 290 mm (29.92 in x 11.42 in x 11.42 in)
Weight
36.74 kg (81 lbs)
Accessories
Rope
DC060 0.060-in Dacron line
1/8-in T-100™ double braid rope, 100% Technora® core (decreases winch stroke length approximately in half)
Dimensions
| | |
| --- | --- |
| Front View | Side View |
| | |
Top View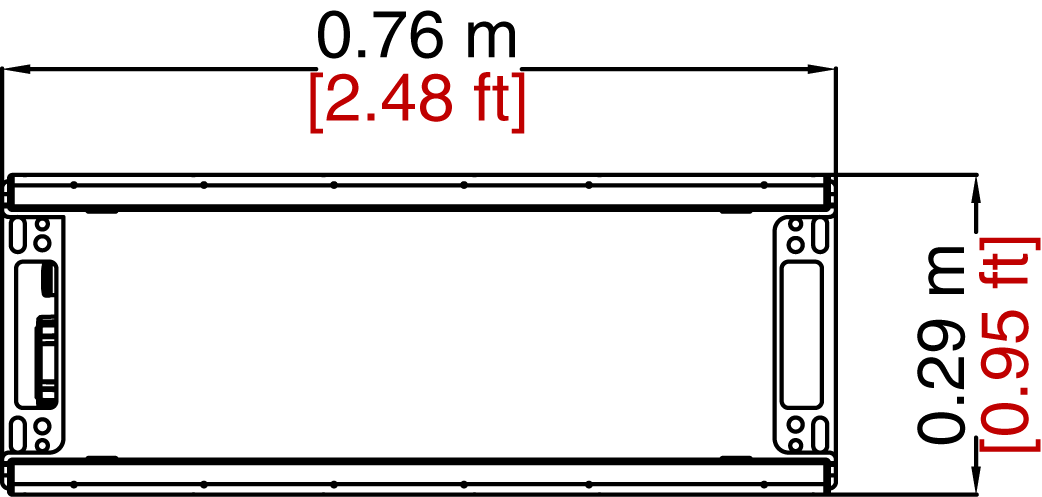 Still Have Questions?
If you have any questions at all--or if you're ready to rent--please contact us. We look forward to hearing from you soon!
Disclaimer: These specifications are general guidelines only and may not be appropriate for your particular project. All product specifications and Data are subject to change without notice. Data, performance features, and images may vary from the final project quote. Issue date: 2016.08.12. Copyright 2021 TAIT Towers Manufacturing, LLC. All rights reserved.
I-CODE: 26700025 Winch, 26700025C Kit