Key Features
Highly configurable option for lifting performers, instruments, and props to the stage on standard TAIT decks
Chain-driven system allows variable start/stop points plus configurable rise and travel distances
Self-Climbing Lift fits various decking and framing configurations
Integrates with other TAIT staging solutions for flexible motion integration into any show
Precision rail guides and elevator shaft enclosure are available for performer safety


Drum kit rising on chain lift
Description
The TAIT Self-Climbing Lift is a custom lifting product that lifts and lowers show performers, instruments and props. This Self-Climbing Lift has five lifting platform layouts and five different supporting frame styles to fit into any production. uses two custom modules that feature a chain-drive system, allowing for variable travel distances.
Designed to be tied into a surrounding deck system on all four (4) sides, it integrates nicely with standard TAIT decks to fit into any production. The self-climber takes up less truck space than a traditional dedicated lifting solution and requires less man power to load in and out and to integrate into a show. The versatility and the flexibility of the self-climbing lift make it easy to add motion elements for dramatic entrances into any production.
Specifications
Electrical
Rated Voltage
200-240 VAC, 3 phase
Power
2.91 HP
Mechanical
Maximum Speed
0.3 m/s (1.0 ft/s)
Acceleration
0.15 m/s² (0.5 ft/s²)
Lift Capacity by Platform Size Below
1 = 589.7 kg (1300 lbs), 2 = 498.9 kg (1100 lbs), 3 = 385.5 kg (850 lbs),
4 = 510.3 kg (1125 lbs), 5 = 464.9 kg (1025 lbs)
Construction
Dimensions (L x W x H)
See Dimensions by Platform Size Below
Weight with Maximum Height by Platform Size
1 = 569.7 kg (1256 lbs), 2 = 671.8 kg (1481 lbs), 3 = 917.6 kg (2023 lbs),
4 = 712.1 kg (1570 lbs), 5 = 771.6 kg (1701 lbs)
Dimensions
Five Platform Options with varying heights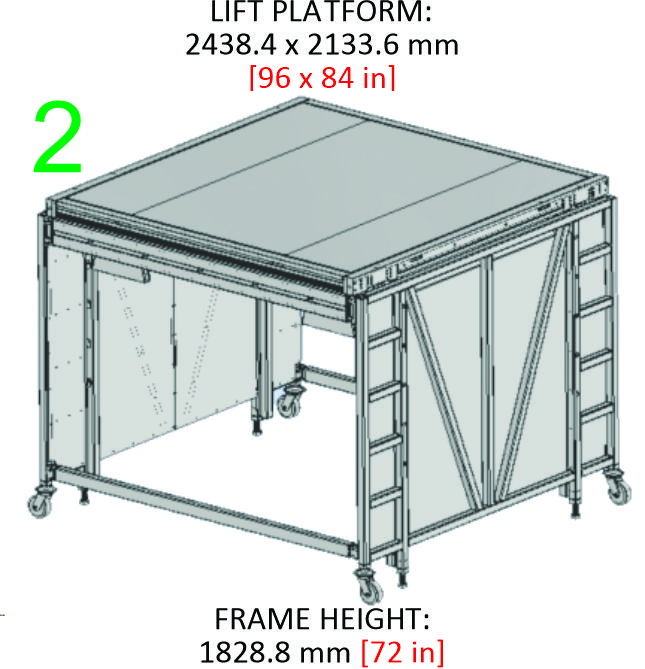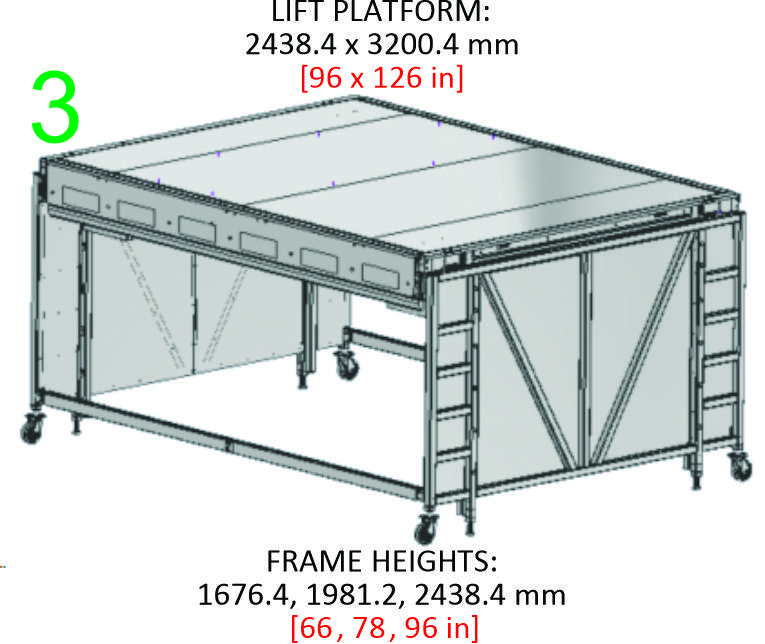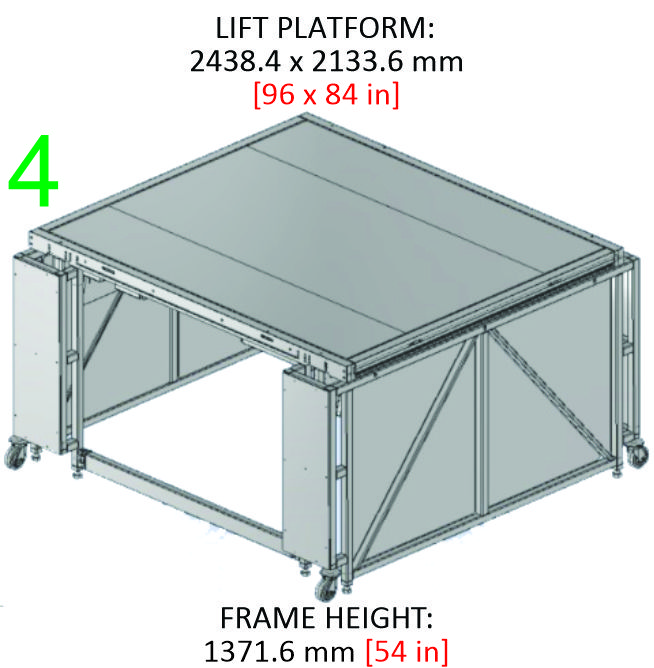 Packaging and Shipping
The Self-Climbing Lift packs and ships in two custom TAIT carts for quick and easy transport and assembly. One cart holds the decks with power modules. And the other contains the frames, links and legs for the desired height. Sizes and weights depend on platform and height options chosen. 
Still Have Questions?
If you have any questions at all--or if you're ready to rent--please contact us. We look forward to hearing from you soon!
Disclaimer: These specifications are general guidelines only and may not be appropriate for your particular project. All product specifications and Data are subject to change without notice. Data, performance features, and images may vary from the final project quote. Revision date: 2023.11.28. Copyright 2023 TAIT Towers Manufacturing, LLC. All rights reserved.
I-CODE: 25035280, 25035290, 25035285