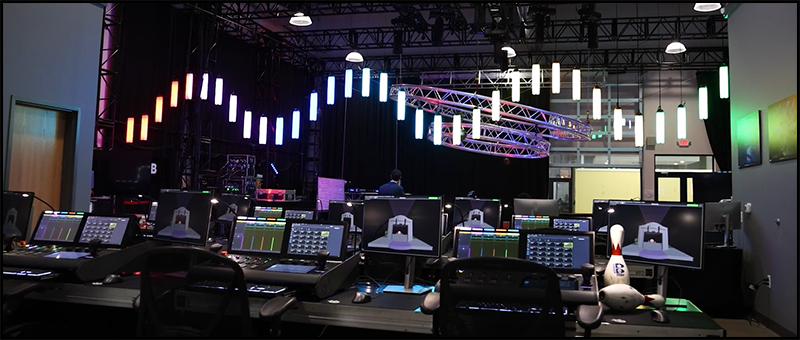 Overview
This course builds upon the prerequisite iQ Online Training by providing hands-on experience with the epiQ console. This hands-on experience solidifies the foundation for using TAIT's iQ software and understanding how to set up your working show environment. It's designed to create a familiarity with the tools and menus available in iQ via the epiQ console, their use for show creation, automation control, and monitoring. Facilitated in Lititz, PA, USA and Hampton, London, UK.
Curriculum
Topics covered in this course include:
Introduction to the workspace
How to open the user manual
Opening, closing, docking, and tabbing windows
Machine manual control
Absolute moves
Relative moves
Moving multiple axes
Moving turntables
Using the Device window
Creating and using position presets
Introduction to the cueing engine
Understanding cues, cue blocks, and cue lines
Axis move cue lines
Loading a cue list and running cues
Cueing a turntable
Delay cue lines
Organizing cue lines
Managing fault behavior
Stopping and restarting cues
Soft skills needed to speak "artistic vision"
Show operation and show programming tips and tricks
Communication and order of operation
Modifying the move time of an axis move or cue line

Basic control theory
Open loop vs closed loop
Moving machines in unison using Axes Groups
Axes Group behavior options
Syncing an axes group
Editing an Axes Group
Changing the master axis of an Axes Group
Advanced cueing in Cueing with motion dependency
Cueing a change in motion
Disabling cues, cue blocks, and machines
Operator message cue lines
Using and controlling IP cameras with
Serial Protocol Manager cue lines
Common troubleshooting scenarios
Node status
ESA status
Device status
Using the Device Message Log
Troubleshooting custom moves and cues
How to contact support
How to create a support bundle
Prerequisite
Ready To Sign Up?
Use one of the links below to visit our class registration site, locate the class named iQ Fundamentals Lab Session, and add it to your cart. Upon checkout, you'll receive a confirmation email along with another email that prompts you to register for a specific session. 
United States - Lititz, PA

Click HERE to register

United Kingdom - Hampton

Click HERE to register

Available US Sessions:

Available UK Sessions:

January 9-10, 2024
February 6-7, 2024
April 24-25, 2024
June 11-12, 2024

29-30 January, 2024
1-2 February, 2024
15-16 April, 2024
18-19 April, 2024