Creating a Support Ticket
If you're an existing client with an urgent matter, you can submit a support ticket without signing in. This can be done directly from the home page by clicking the Submit a request link at the top right of the page or by clicking the red Help button at the bottom right (this button is on each page of the site). Each option opens the request form shown below: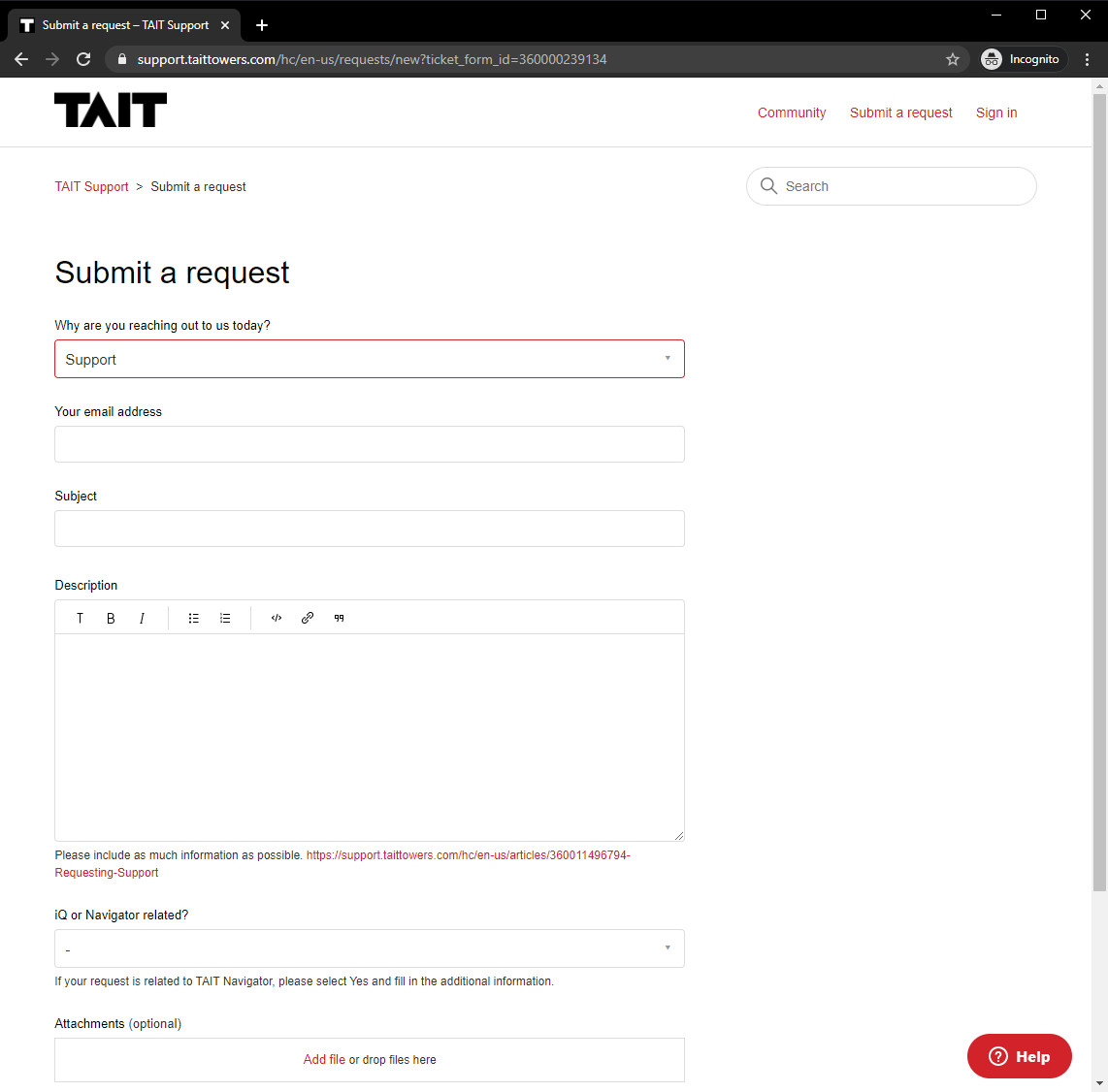 Requests submitted from this form can be classified as a Support or Training request. This ensures we put you in touch with the correct support personnel. The Support form (shown above) also lets you choose the software you're inquiring about and add attachments that may be helpful in diagnosing the issue:
Screenshots, or even better, a video of the issue
When you're finished filling out the form, click the red Submit button at the bottom of the form.
NOTE: Before you fill out a support form, please read How To Write a Great Bug.
Checking Ticket Status
Once you sign in, you can check ticket status by clicking the down-pointing arrow next to your name at the top right of the page. Choose My Activities to view your support tickets. As you may suspect, the Profile link lets you update your user profile information (for example, you can add a photo of yourself).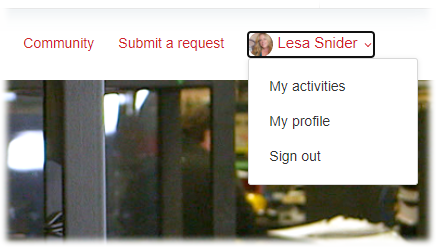 Clicking the My Activities link opens the My Requests page shown below. Support tickets are separated into three lists (details in the examples below are blurred to protect confidential information):
My requests. Tickets you submitted to TAIT Support.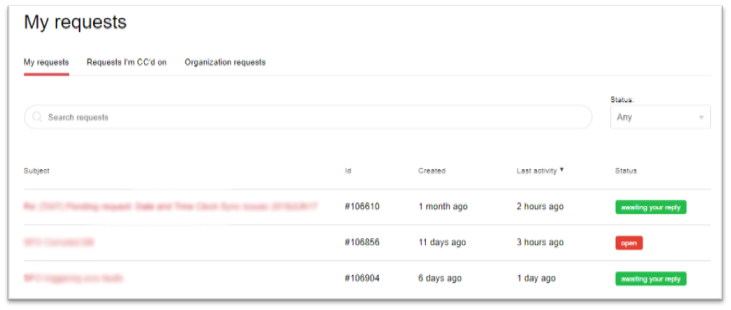 Requests I'm CC'd on. Any ticket that you are copied on. It's possible to be the ticket requester and to be CC'd on a ticket.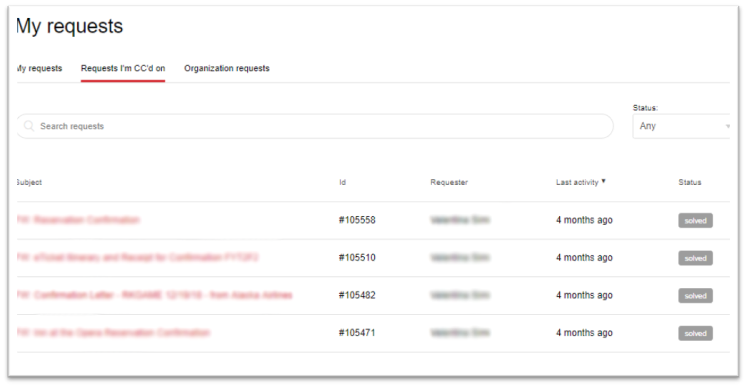 Organization tickets. Tickets submitted by anyone within your organization, even if you aren't CC'd on the ticket.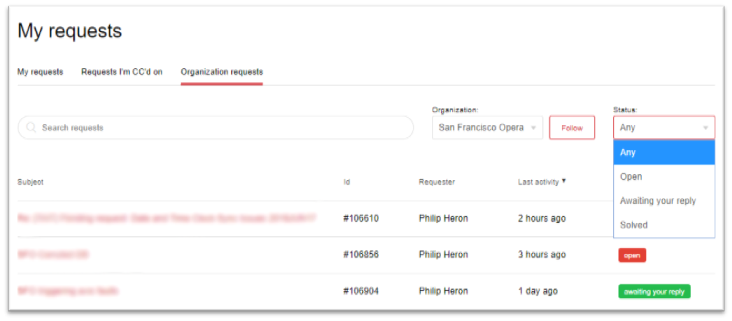 All three of these list views can be filtered into the three different ticket statuses: Open, Awaiting your reply, and Solved.
Viewing Ticket Details
To view the details of a ticket, click the subject line: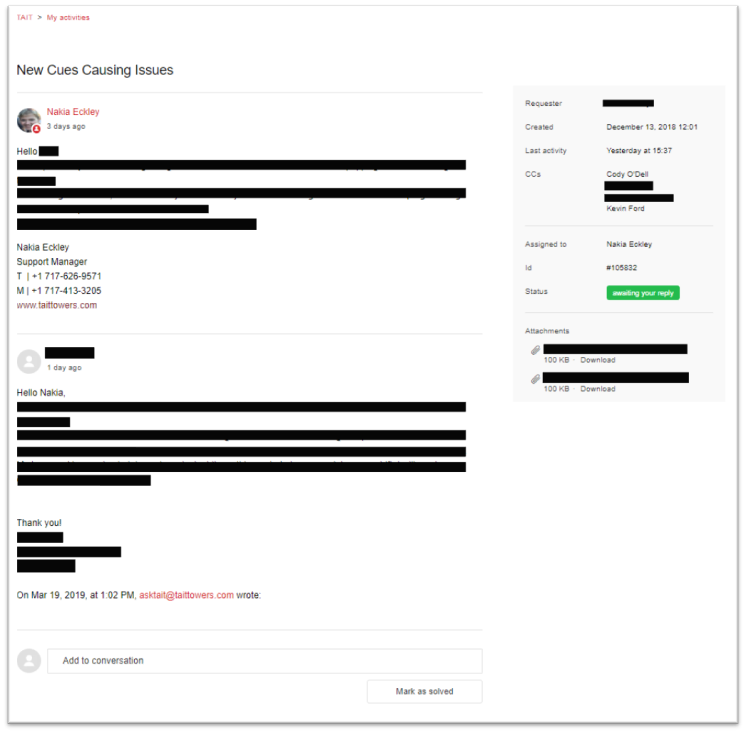 To see the name of the TAIT personnel who is currently assigned to the ticket, locate the Assigned To text on the right side of the page. This area also shows you who is CC'd on the ticket.
Responding to a Ticket
If the status of the ticket is "awaiting your reply", you can respond using the text box at the bottom of the page. You can also mark the current ticket as solved if there is no longer an issue.
You can also see a list of attachments that were added to the ticket, which you can download and review.