TAIT Support can be accessed online via the Support Portal.
The website address for this portal is https://support.taittowers.com
Using the browser of your choice (Chrome is shown here), navigate to the landing page of TAIT Support.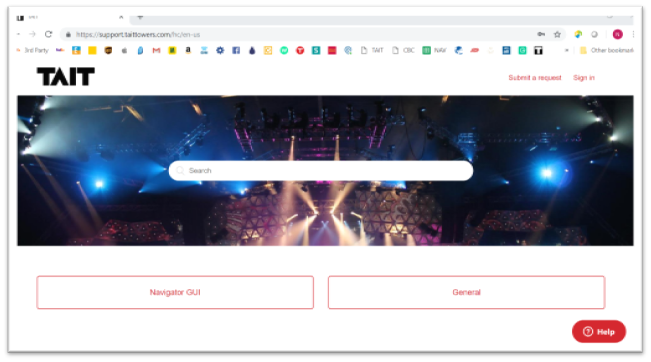 If the matter is urgent, you do not need to Sign In to create a support ticket. This can be done directly from the landing page via the "Submit a request" link on the top right part of the website or from the red Help button on the bottom right. Clicking on either link will take to you a short request form.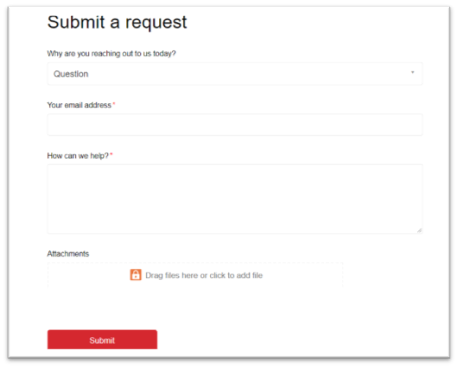 Items from this page a classified at a Problem, Question, or Training Request. A classification is not required to submit a request, but it may cause a delay in response from one of technicians.
Once you have completed the form, it will be submitted to the portal and our technicians by clicking the red Submit button.
If you wish to sign in to submit a new support ticket or check the status of a current ticket, the Sign in link can be found at the top right corner of both the main landing page and the Submit a Request page.  This link opens a login window.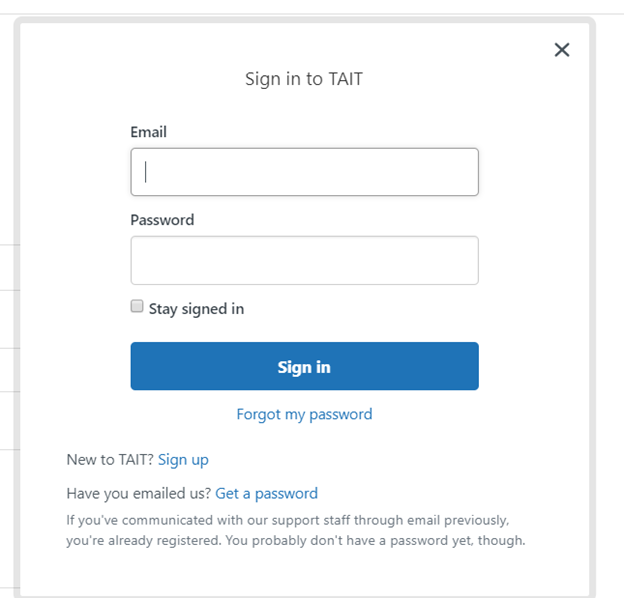 From this window, you can log into an existing TAIT Support account or create a new account. If you are unsure if you have an account or not, please use the Get a password link at the bottom. The TAIT Support Portal automatically creates new accounts and user IDs for every email address we receive. If you have emailed asktait@taittowers.com or were CC'd on an email to askTAIT any time after August 18, 2018 then you likely have an existing TAIT Support Login.
To receive a TAIT Support Login, all you need is a login name and email address. No other information is required.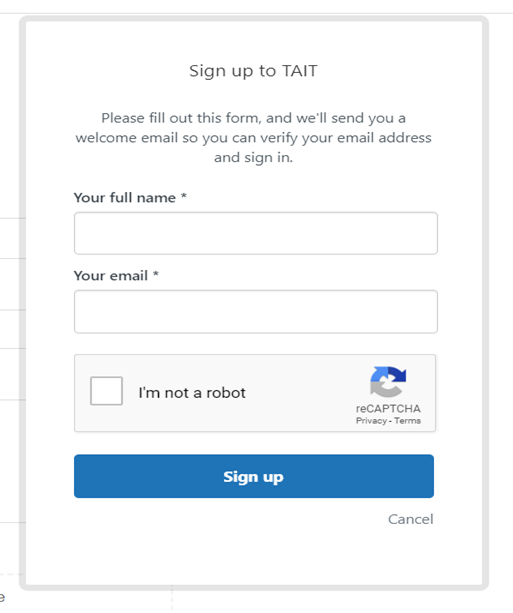 Once you are logged into the site, you are redirected to your own customized landing page.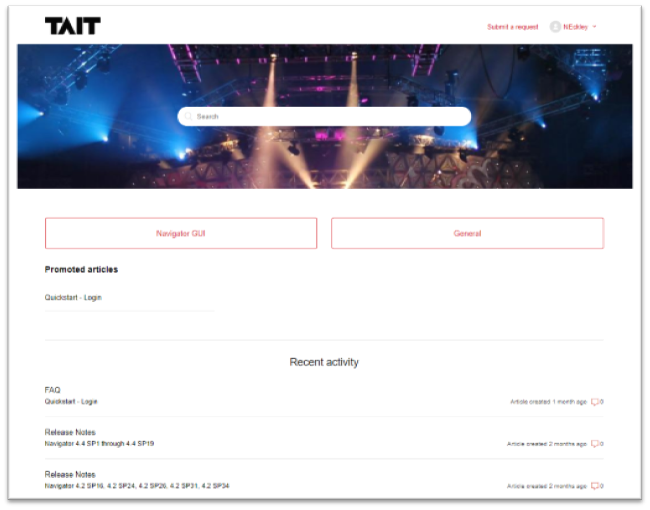 This page is very similar to the general support landing page, but as a registered user you will have access to additional articles in the online guide.
In the top right corner of the page, is your login ID. Next to this is a down arrow that opens the site menu. From this menu you can view your TAIT Support tickets (My activities) and update your user profile information (My profile).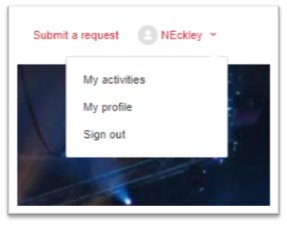 By clicking on "My activities", you are directed your Support Ticket page. Tickets are separated into three different lists – My requests, Requests I'm CC'd on, and Organization requests.
 (Please note the details for the below examples have been obscured to protect confidential information.)
 My requests – Tickets that have been submitted to TAIT Support by you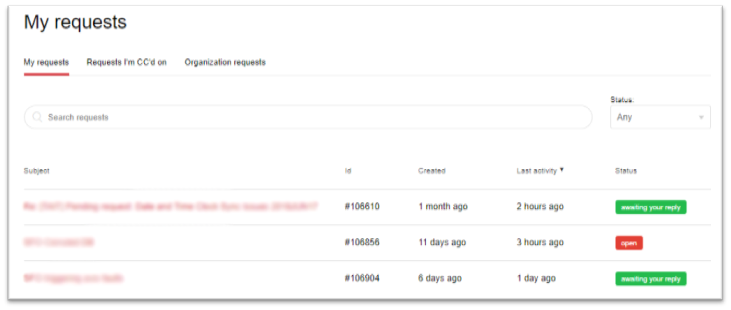 Requests I'm CC'd on – Any ticket that you are copied on. (It is possible to be both the ticket requester and to be CC'd on a ticket.)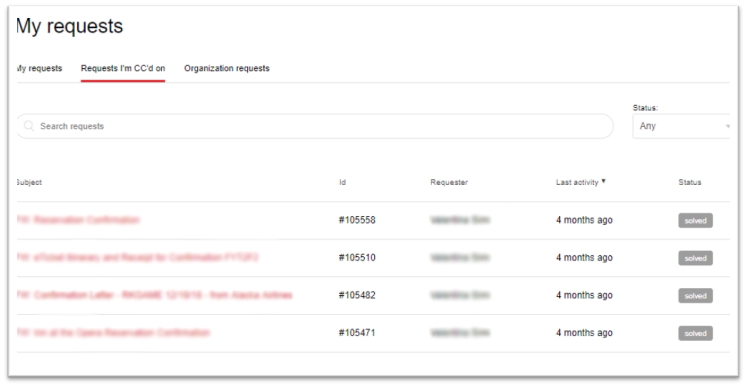 Organization tickets – Tickets that have been submitted by anyone within your organization, even if you are not CC'd on the ticket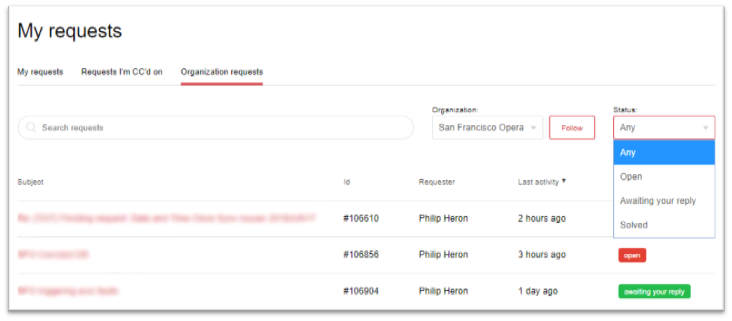 All three of these list views can also be filtered into the three different ticket statuses – Open, Awaiting your reply, and Solved.
Clicking on the subject line of each ticket will open up the ticket details windows.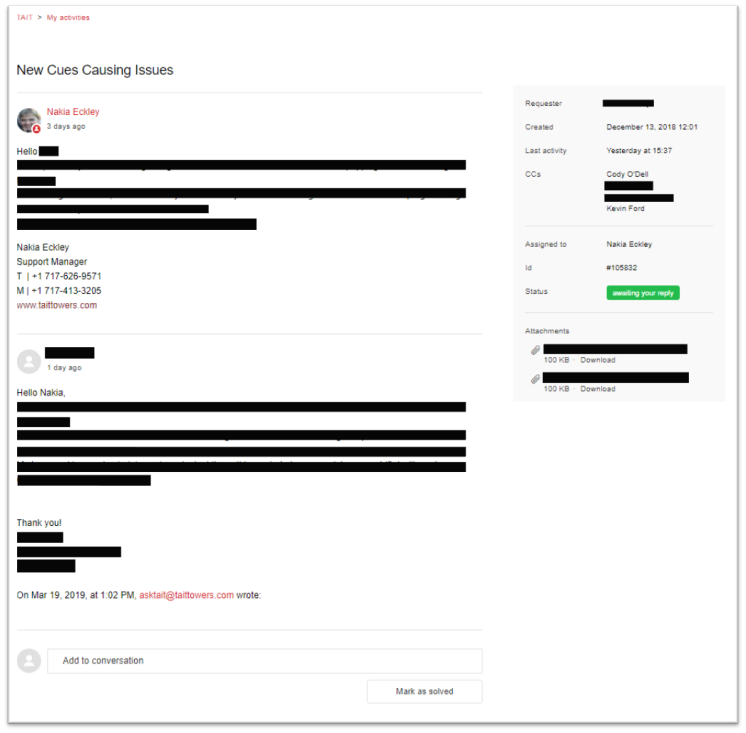 In the small box on the right side of the screen, you can see who is currently assigned to the ticket and who is CC's on the ticket as well. 
If the status of the ticket is "awaiting your reply", you can respond via the text box at the bottom of the ticket.  You can also mark the current ticket is solved if there is no longer an issue.
You can also see a list of files attached to the case and can download them for review.