Key Features
Custom TAIT lift to raise and lower performers, instruments, and props for staging flexibility and dramatic entrances
Oil-less chain-driven system lifts 115 kg (253.53 lbs) payload up to 1.2 m/s (3.94 ft/s); up to 230 kg (507.06 lbs) payload at slower speeds
Fully compatible with the TAIT Mag Deck system; seamless integration into any production
Integrates in any staging via coffin locks; interchangeable lids adjust height
Integrates with TAIT Navigator and iQ systems
Description
A very compact, high-speed single performer lift with at least four interchangeable lids for varied heights. The lift is extremely safe with no exposed pinch points, interlocked door, and redundant braking. The urethane bearings provide quiet operation suitable for live theatre and corporate events in addition to concert touring.
Specifications
Electrical
Power
415V, 3 Phase, 10A
Connections
Control
AC servo control providing variable speed, exact positioning, smooth accel/decel, and full torque from the get-go
Mechanical
Maximum Speed
1.2 m/s (4 fps)
Maximum Lifting Capacity
115 kg (253.53 lbs) at maximum acceleration
Up to 230 kg (507.06 lbs) at slower speeds
Maximum Travel
4 ft (1.22 m) at 5 ft stage height
5 ft (1.52 m) at 6 ft stage height
6 ft (1.83 m) at 7 ft stage height
7 ft (2.13 m) at 8 ft stage height
Construction
Dimensions (L x W x H)
1.05 m x 1.05 m x 2.44 m / 2.13 m / 1.82 m / 1.52 m
(3.44 ft x 3.44 ft x 8 ft / 6.99 ft / 5.97 ft / 4.99 ft)
Weight
Main frame 315 kg (694.46 lbs) plus up to 75 kg (165.35 lbs) lid, three extension options
Dimensions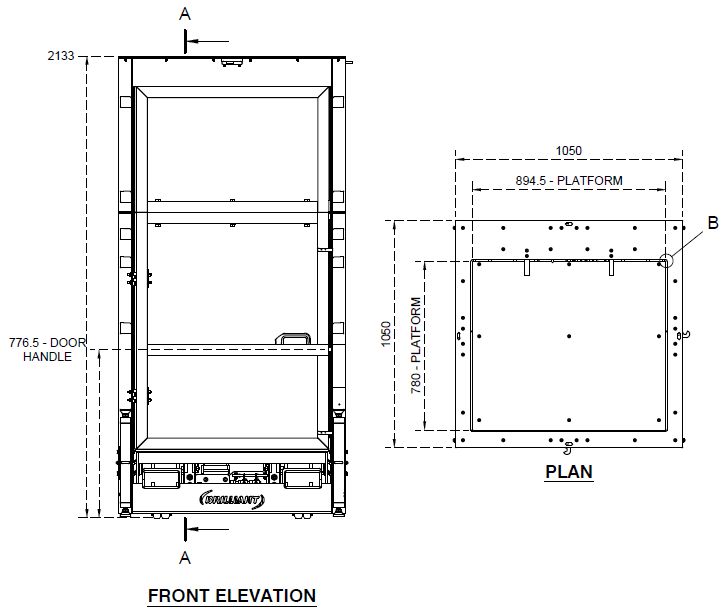 Packaging and Shipping
Mounts efficiently within the Brilliant staging system, but can be adapted to any structure. Sized to travel inside 114.3 cm (45 in) back-wall touring dollies or strapped to a dedicated 110 cm (43.31 in) x 110 cm (43.31 in) flat dolly. Integrated leveling feet and fork pockets for lifting.
Still Have Questions?
If you have any questions at all--or if you're ready to rent--please contact us. We look forward to hearing from you soon!
Disclaimer: These specifications are general guidelines only and may not be appropriate for your particular project. All product specifications and Data are subject to change without notice. Data, performance features, and images may vary from the final project quote. Issue date: 2021.12.06. Copyright 2021 TAIT Towers Manufacturing, LLC. All rights reserved.
I-CODE: 19830039