Key Features
TAIT Nano Winch is lightweight, flexible, single-point winch for touring and permanent installations
Complies with the UL1340 and BGV-C1 hoist safety standards
Safety features include dual brakes for max safety factor of 10:1 and limit settings for positional accuracy
Transmits power and four-channel LED control "down the line" for dynamic light displays
Compatible with TAIT Navigator and other industry standard communication protocols
Description
The TAIT Nano Winch is a compact, fixed, single-point hoist featuring a conductive ribbon that transmits power and LED control down the line to a connected fixture. The Winch raises and lowers a 4.53 kg (10 lb) load at a maximum speed of 3.05 m/s (10.0 ft/s). Dual brakes and over-travel limits provide safe and secure lifting at full load and at maximum speed. The Winch can be used individually or in arrays for dramatic moving light displays. The Nano Winch is fully compatible with TAIT Navigator and can be programmed using 3D animation software with rigged models to perform intricate and precise movements while maintaining complete control of the load. Also compatible with a number of industry standard communication protocols, ensuring safe and dynamic operation in any production.
Specifications
Software Compatibility
Control System
Navigator
Electrical
Motor Phase
1PH + PE
Input Voltage
200-240 VAC
Power
400W
Current
2.0A
Connections
Power
PowerCON
E-Stop
XLR 4-Pin
Control (Nav:COM)
EtherCON
Mechanical
Load Capacity
4.53 kg (10 lbs)
Load Speed
Intermittent Duty: 3.05 m/s (10 ft/s)
Constant Duty: 1.52 m/s (5 ft/s)
Acceleration
Intermittent Duty: 3.05 m/s

2

(10 ft/s

2

)
Constant Duty: 1.52 m/s

2

(5 ft/s

2

)
Stroke
18.25 m (59.88 ft)
Construction
Dimensions (L x W x H)
Nano Winch only: 241 mm x 302 mm x 341 mm
(9.48 in x 11.89 in x 13.43 in)
Nano Winch with clamp: 241 mm x 302 mm x 440 mm
(9.48 in x 11.89 in x 17.32 in)
Weight
13.60 kg (29.98 lbs)
Certifications
Hoist Standard
UL1340, BGV-C1
Entertainment
ANSI E1.6-1 –2012BS 7905-1
Accessories
Clamp
Various fastening devices available for specific mounting applications
Dimensions
Top View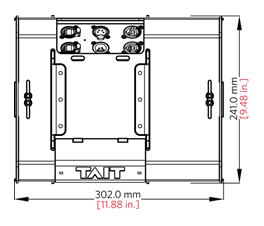 | | |
| --- | --- |
| Side View | Front View |
| | |
Still Have Questions?
If you have any questions at all--or if you're ready to rent--please contact us. We look forward to hearing from you soon!
Disclaimer: These specifications are general guidelines only and may not be appropriate for your particular project. All product specifications and Data are subject to change without notice. Data, performance features, and images may vary from the final project quote. Issue date: 2016.08.10. Copyright 2020 TAIT Towers Manufacturing, LLC. All rights reserved.
I-CODE: 26811403