Key Features
Custom TAIT large platform lift for staging flexibility and dramatic entrances
Easy loading and unloading
Lift up to 453.59 kg (1000 lbs) at maximum speed of 0.19 m/s (0.62 ft/s).
Adjustable height 1.22 m to 2.44 m (4 ft to 8 ft)
Fully-compatible with the TAIT Mag Deck system
Customizable surface to match stage

Integrates with TAIT Navigator and iQ systems
Description
The TAIT Prop Lift is a custom chain-driven lifting product that smoothly raises and lowers performers, instruments, and props. The lift features a large 2.03 m x 0.80 m (6.7 ft x 2.62 ft) platform and can support 453.59 kg (1000 lbs) to accommodate a wide-range of staging applications. The lift deck is supported at four independent locations and the entire load is driven by two motors. Modular frames adjust the maximum height and the distance the lift can travel.
Dimensions
| | |
| --- | --- |
| Top View | Side View |
| | |
Side View, Travel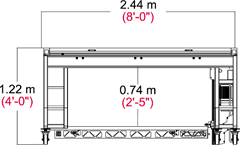 Specifications
Electrical
Motor Phase
3 Phase
Motor Speed
1750 RPM
Voltage
120/208 VAC
Power
2 HP
Connections
Power
L21-30 Cable, 30A
Control
Local, Pickle, TAIT Navigator,
LKH Motor and Brake Cable, T-Comm Feedback Cable
Mechanical
Load Capacity
453.50 kg (999.80 lbs)
Maximum Speed
0.19 m/s (0.62 ft/s)
Rated Acceleration Time
1.0 sec
Travel
1.22 m to 2.29 m (4 ft to 7.51 ft), adjustable
Construction
Dimensions (L x W x H)
Prop Lift: 2.44 m x 1.07 m x 1.22 m (8 ft x 3.51 ft x 4 ft)
Platform: 2.03 m x 0.80 m (6.7 ft x 2.6 ft)
Packaging and Shipping
Dimensions (L x W x H)
2.27 m x 2.74 m x 2.08 m (7.45 ft x 8.99 ft x 6.82 ft)
Weight
476 kg (

1049.4 lbs)
Still Have Questions?
If you have any questions at all--or if you're ready to rent--please contact us. We look forward to hearing from you soon!
Disclaimer: These specifications are general guidelines only and may not be appropriate for your particular project. All product specifications and Data are subject to change without notice. Data, performance features, and images may vary from the final project quote. Issue date: 2020.04.02. Copyright 2020 TAIT Towers Manufacturing, LLC. All rights reserved.
I-CODE: 25002100 / PROPLIFTD-XX