Key Features
Scissor Lift Type A 2000 mm x 1000 mm (78.74 in x 39.37 in)platform of 2 x 1 m raises and lowers performers, instruments, and props for flexibility and dramatic entrances
Sync multiple Type A Lifts to create larger lifting platform
Rigid chain-driven system lifts 500 kg (1102 lbs) of payload at a maximum speed of 0.2 m/s (0.66 ft/s) to a maximum height of 2.3 m (7.54 ft).
Fully compatible with the TAIT Mag Deck system
Custom brackets designed ad hoc for stage integration
Integrate with the TAIT Navigator Automation System for precise motion and timing control.
Description
A very compact and versatile, low profile lift system consisting of active scissors lifts, passive stabilizing scissors, custom rolling bases, and custom scenic lids. The precision servo control allows for exact synchronization of multiple lifts moving in groups. The ultra-quiet lifts eliminate the noise, spillage, drift, and imprecision issues associated with hydraulic lifts.
Specifications
Electrical
Power
415V, 3 Phase, 5A
Connections
Control
AC servo control providing variable speed, exact positioning, smooth accel/decel, and full torque from the get-go
Mechanical
Maximum Speed
0.2 mps (0.6 fps)
Maximum Lifting Capacity
500 kg (1102 lbs)
Maximum Travel
1745.5 mm (68.8 in) stroke including 30 mm (1.18 in) of over and under travel from 552.5 mm (21.75 in) retracted to 2300 mm (90.55 in) extended height
Construction
Dimensions (L x W x H)
Retracted
Extended
2000 mm x 1000 mm x 552.5 mm (78.74 in x 39.37 in x 21.75 in)
2000 mm x 1000 mm x 2300 mm (78.74 in x 39.37 in x 90.55 in)
Weight
550 kg (1212.54 lbs)
Dimensions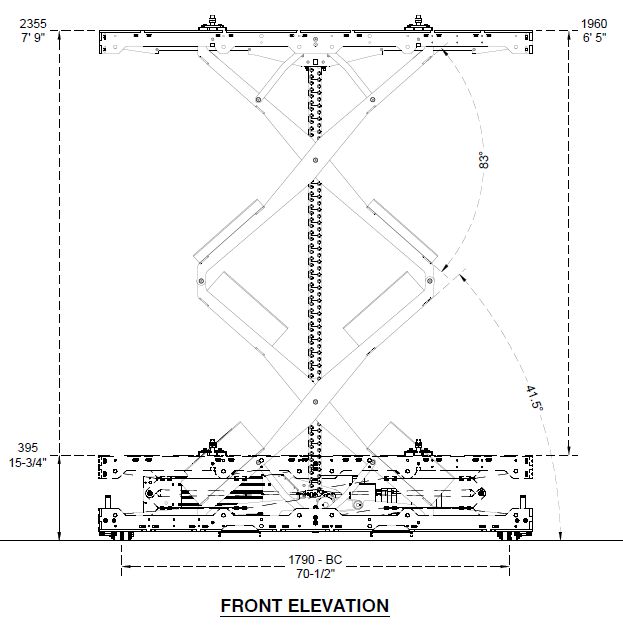 Packaging and Shipping
Mounts efficiently within the Brilliant staging system, but can be adapted to any structure. Travels on a dedicated flat dolly or within show specific greater lift assemblies. Integrated leveling feet and quick release eyes for lifting.
Still Have Questions?
If you have any questions at all--or if you're ready to rent--please contact us. We look forward to hearing from you soon!
Disclaimer: These specifications are general guidelines only and may not be appropriate for your particular project. All product specifications and Data are subject to change without notice. Data, performance features, and images may vary from the final project quote. Issue date: 2021.08.05. Copyright 2021 TAIT Towers Manufacturing, LLC. All rights reserved.
I-CODE: 19830033