Key Features
Variable-speed drive for controlling Kinesys Pulse winches
Compatible with iQ and Navigator
Operational front panel with 7" display and local controls
Key switches for local control, muting, and test functions
EtherCON connectors for 1G Nav:Net connection
Wall-mounted steel cabinet
Low noise, variable-speed cooling
Convection-cooled braking resistors in a separate rear chamber
SIL3 rated; suitable for performer flying applications
Description
The Kinesys Pulse Drive is a wall-mountable variable speed drive intended for permanent stage machinery installations. The 4kW Drive and 22kW versions are used to control the Kinesys Pulse Winch Install PWI20 and PWI30 respectively. The 7.5kW version is used for controlling the Kinesys Pulse Hoist 2500. The drive may be mounted adjacent to machinery or remotely using up to 75 m of cables.
The Kinesys Pulse Drive is compatible with both TAIT Navigator and iQ control safety systems. All safety functionality is incorporated into the drive and associated machinery; control and safety connections are made using a single Ethernet cable, permitting the use of existing power and network infrastructure.
Specifications
4KW
7.5kW
22kW
Software Compatibility
Control System
TAIT Navigator, iQ
Electrical
Rated Voltage

208 V or 400-480 V, 3-phase + earth

400-480 V, 3-phase + earth

400-480 V, 3-phase + earth
Typical Input Current
208 V – 23 A; 400-480 V – 14 A
22 A
54 A
Max Continuous Output Current
208 V – 18.5 A; 400-480 V – 10 A
17.2 A
47 A
Peak Output Current
208 V – 37 A; 400-480 V – 20 A
34.4 A
94 A
Connections
Controlled device
Kinesys Pulse Winch Install PWI20
Kinesys Pulse Hoist
Kinesys Pulse Winch Install PWI30
Power
1 x Harting motor and brakes connector
1 x Harting encoder and data connector
1 x mains input connector
Network
2 x EtherCON on connector panel - connected to internal Ethernet switch
1 x EtherCON on front panel - 802.3 at PoE
Construction
Dimensions, enclosure only
(H x W x D)
700 mm x 350 mm x 375 mm
(27.6 in x 13.8 in x 14.8 in)

703 mm x 356 mm x 450 mm

(27.7 in x 14.0 in x 17.7 in)

800 mm x 450 mm x 502 mm
(31.5 in x 17.7 in x 19.8 in)
Enclosure
Steel, matt black powder coat finish
Characteristics
Environmental
IP54 (IP65 with waterproof fan covers)
Temperature
Operating: 0 to 40ºC (32 to 104ºF)
Storage: -20 to 80 ºC (-4 to 175 ºF)
Sensor inputs
Limit switches
Brake feedback
Temperature monitoring
Certification
CE, EN17206 UC1 to UC6, SIL 3
Dimensions
4kW
7.5kW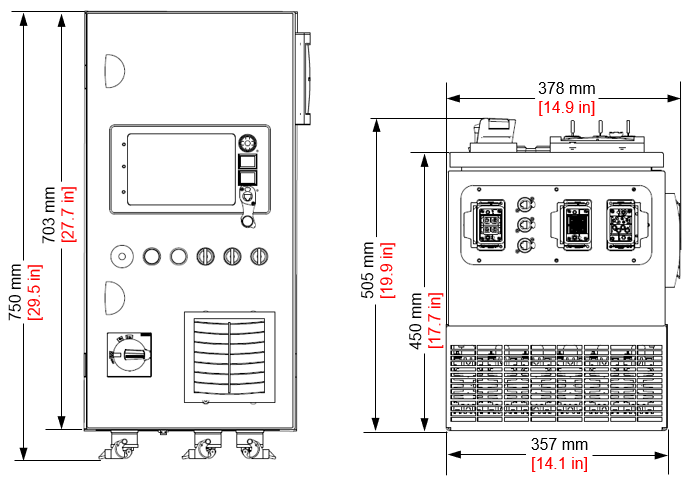 22kW
Still Have Questions?
If you have any questions, please contact us. We look forward to hearing from you soon!
Disclaimer: These specifications are general guidelines only and may not be appropriate for your particular project. All product specifications and Data are subject to change without notice. Data, performance features, and images may vary from the final project quote. Issue date: 2022.04.22. Copyright 2022 TAIT Towers Manufacturing, LLC. All rights reserved.