Key Features
Ability to connect two 24V LEDs to provide load feedback– the behavior of the LEDs can be programmed by the user
Ability to connect load sensor, or alternative sensors such as anemometers via Phoenix connectors
Can be daisy-chained easily to other Nodes on the Libra network
Configuration and calibration of the load cells can be done using the Kinesys Libra Setup application
Description
The LibraNODE is a device that connects Kinesys LibraCELL load cells and other sensors to the Libra system via an interface such as the LibroPRO or LibraBASIC. The device is designed with user flexibility in mind so that users can get the most out of their particular Libra system.
The LibraNODE can be easily daisy chained to other Nodes using the Data In and Data Through XLR cables. Phoenix connectors of different types are provided to connect the XLR cables as well as a load sensor, 24V LEDs and alternative sensors to suit the needs of the user. Calibration and configuration can be achieved using the Libra Setup application.
The LibraNODE is lightweight, compact, and can be mounted easily using the two 4.7 mm mounting holes or by attaching the flat base to a suitable surface.
Specifications
Construction
Dimensions (L x W x H)
76 mm x 35.5 mm x 38 mm (3.0 in x 1.4 in x 1.5 in)
Weight
51.4 g (0.11 lbs)
Dimensions
| | |
| --- | --- |
| Top View | Side View |
| | |
Pinouts
Top View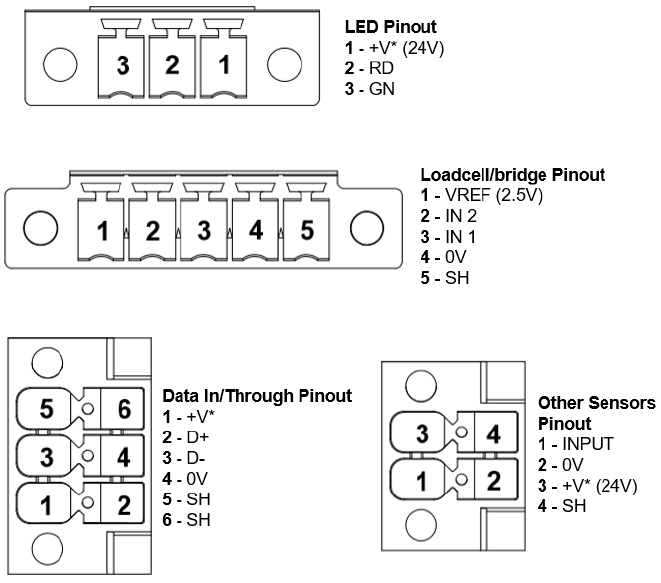 Still Have Questions?
If you have any questions, please contact us. We look forward to hearing from you soon!
Disclaimer: These specifications are general guidelines only and may not be appropriate for your particular project. All product specifications and Data are subject to change without notice. Data, performance features, and images may vary from the final project quote. Issue date: 2021.05.24. Copyright 2021 TAIT Towers Manufacturing, LLC. All rights reserved.