Key Features
Standalone LibraCELL controller
Able to support up to 100 load cells and up to 40 groups using the four XLR4 outputs
Provides overload and underload monitoring
Four programmable relay outputs available
Ethernet port for connection to Kinesys LibraWATCH or a LibraWIFI interface
LibraVIEW software can be connected via either the Ethernet or USB interface
Supports a pass-through mode, allowing it to be used with an Elevation controller
Rack mountable into a standard 19" rack (1U size)
Description
The LibraPRO is a device for controlling and monitoring Kinesys LibraCELL load cells, providing overload and underload trips, and providing an Ethernet or USB connections to other devices in the Libra system, and features four XLR4 outputs allowing up to 100 load cells within 40 groups to be monitored.
LibraPRO relay outputs can be used to trigger alarms or beacons to warn of overload and underload situation.
By using the LibraPRO in conjunction with the LibraWATCH or LibraVIEW software applications, there is the option of viewing key data from each LibraCELL in tabular, graphic or plan form through a user-friendly interface.
Specifications
Electrical
Power supply
1-phase + neutral + earth, 90-240V, 50-60 Hz
Mains connector
PowerCON TRUE1 male plug IP65
Construction
Dimensions (L x D x H)
482 mm x 305 mm x 44 mm (1U)
(19 in x 12 in x 1.7 in)
Weight
2.3 kg (5.0 lbs)
Characteristics
Control connections
4 x XLR4 LibraCELL outputs 1 x Ethernet (Ethercon) 1 x USB (Type B) 2 x Mains switched relay outputs 2 x Volt free relay outputs
Enclosure
Aluminum case, black anodized
Ingress Protection
IP30
Temperature
Operating: 5 to 40ºC (41 to 104ºF)
Storage: -20 to 80 ºC (-4 to 175 ºF)
Cooling
Thermostatically controlled forced air
Dimensions
Front View

Top View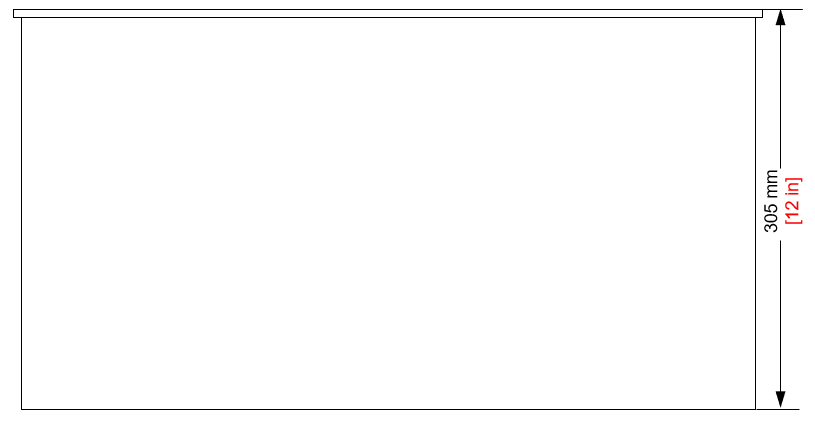 Still Have Questions?
If you have any questions, please contact us. We look forward to hearing from you soon!
Disclaimer: These specifications are general guidelines only and may not be appropriate for your particular project. All product specifications and Data are subject to change without notice. Data, performance features, and images may vary from the final project quote. Issue date: 2021.05.24. Copyright 2021 TAIT Towers Manufacturing, LLC. All rights reserved.