Key Features
SIL3 / PLe emergency stop
Front panel diagnostics
Intelligent emergency stop monitoring
E-Stop + DMH 10-Pin MIL connector In
2 x Ethernet ports for diagnostics
Neutrik PowerCON True 1 (Power In/Out)
Neutrik EtherCON for EVO
19-Pin MIL connector for Velocity 2
4U 19" rack size
Description
Mentor comprises a range of safety controllers and distribution equipment to provide safety input, connection, and monitoring to Kinesys and third-party automation systems. The Mentor M307 and Mentor M308 are designed for use with Velocity 2 and EVO V2 systems. They connect via a Universal Device Interface (UDI) connector, which provides volt-free contact inputs and outputs for the connection of a wide range of systems. The main difference between the M307 and M308 models is that the M308 model includes two additional drive connectors and a console connector.
When used with Kinesys safety input devices and suitable output devices, the emergency stop hold-to-run system complies with requirements up to PLe (EN 13849) or SIL3 (EN 62061).
Specifications
Electrical
Mains In
85- 264V, 50- 60 Hz, 70W via Neutrik PowerCON TRUE1 with link output
Power connection
Neutrik PowerCON True 1
Control connections
E-Stop + DMH 10-Pin MIL connector
2 x Ethernet ports
Neutrik EtherCON for EVO
19-Pin MIL connector for Velocity 2
Construction
Enclosure
Steel enclosure, zinc plated finish
Steel front panel, blue stove enamel finish
Dimensions, excluding cables and handles (W x H x D)
483 mm x 177 mm x 504 mm (19 in x 7 in x 19.8 in)
Rack mount
Suitable for 19" rack, 4U size
Total weight
21.4 kg (47.2 lbs)
Characteristics
Cooling
IP30
Temperature
Operating: 5 to 40ºC (41 to 104ºF)
Storage: -20 to 55 ºC (-4 to 131 ºF)
Ingress Protection
Forced air cooled (2 x internal DC fan)
Compliance
EN62061, EN ISO 13849
Dimensions
Front View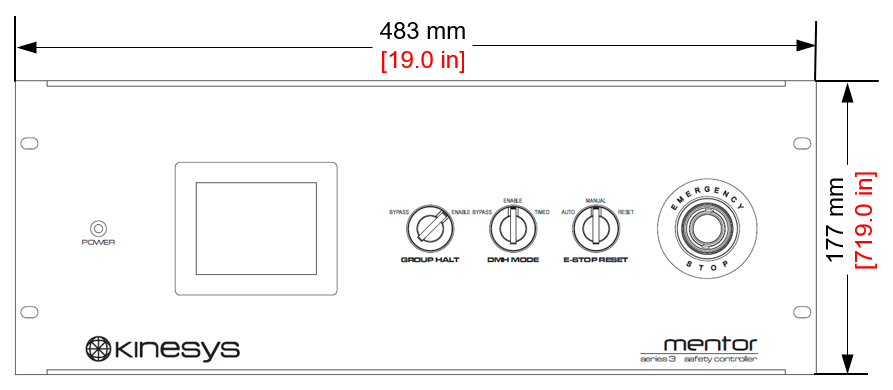 Still Have Questions?
If you have any questions, please contact us. We look forward to hearing from you soon!
Disclaimer: These specifications are general guidelines only and may not be appropriate for your particular project. All product specifications and Data are subject to change without notice. Data, performance features, and images may vary from the final project quote. Issue date: 2021.05.24. Copyright 2021 TAIT Towers Manufacturing, LLC. All rights reserved.