Key Features
SIL3 / PLe emergency stop buttons and enable switches
Can control up to 60 devices
SIL3 safety data both to and from compatible devices
SIL3 device grouping capabilities
7" touchscreen for configuration and diagnostics
Optional fibre connections for long distance connections
Universal Device Interface connection for non-Apex systems
4U 19" rack size
Description
The Mentor M401 is a safety controller and distribution unit that provides safety input, connection, and monitoring to Kinesys and third-party automation systems. It has SIL3 safety over Ethernet at its core and can communicate with and safely control up to 60 devices at any one time. The Mentor uses the emergency stop buttons and enable switches common across the previous Mentor range. It also includes Universal Device Interface (UDI) connections that allow Elevation, DigiHoist and other legacy systems to integrate into the Mentor infrastructure.
Safe groups are central to the Mentor series 4 capabilities. This feature allows devices to be grouped together with a SIL3 rating so that an error on any one of the grouped devices will stop the entire group. Groups can be created and deleted by the user from the touchscreen interface with any changes being confirmed via a key-switch to ensure these actions are only performed by authorized personnel.
The inclusion of a Console/Pendant connector allows a Dimension Pendant to be connected directly to the Mentor making it quick and easy to get a system up and moving.
Specifications
Electrical
Mains In
85 - 264V, 50 - 60 Hz, 70W via Neutrik PowerCON TRUE1 with link output
Power connection
Neutrik PowerCON True 1
Control connections
8 x Apex Safety over Ethernet, Neutrik Ethercon RJ45
2 x Apex Safety over Fibre Ethernet (optional), Neutrik OpticalCon QUAD
2 x EVO v2 Ethernet Data – Neutrik Ethercon RJ45
3 x MIL10 Combined Emergency stop and DMH
3 x MIL10 Emergency Stop only
1 x MIL19 Console/Pendant Input
2 x Universal Device Interface connections for non-Apex devices
Construction
Enclosure
Steel enclosure, zinc plated finish
Steel front panel, blue stove enamel finish
Dimensions, excluding cables and handles (W x H x D)
483 mm x 177 mm x 504 mm (19 in x 7 in x 19.8 in)
Rack mount
Suitable for 19" rack, 4U size
Total weight
20 kg (44 lbs)
Characteristics
Cooling
IP30
Temperature
Operating: 5 to 40ºC (41 to 104ºF)
Storage: -20 to 55 ºC (-4 to 131 ºF)
Ingress Protection
Forced air cooled (2 x internal DC fan)
Compliance
EN62061, EN ISO 13849
 
 
Dimensions
Front View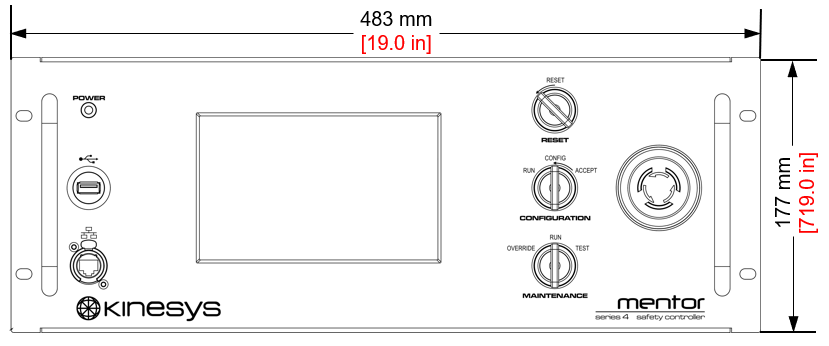 Still Have Questions?
If you have any questions, please contact us. We look forward to hearing from you soon!
Disclaimer: These specifications are general guidelines only and may not be appropriate for your particular project. All product specifications and Data are subject to change without notice. Data, performance features, and images may vary from the final project quote. Issue date: 2021.05.24. Copyright 2021 TAIT Towers Manufacturing, LLC. All rights reserved.